5 days tour from Marrakech to sidi ifni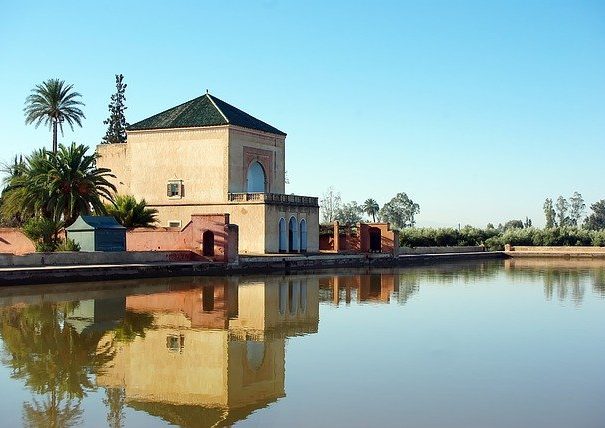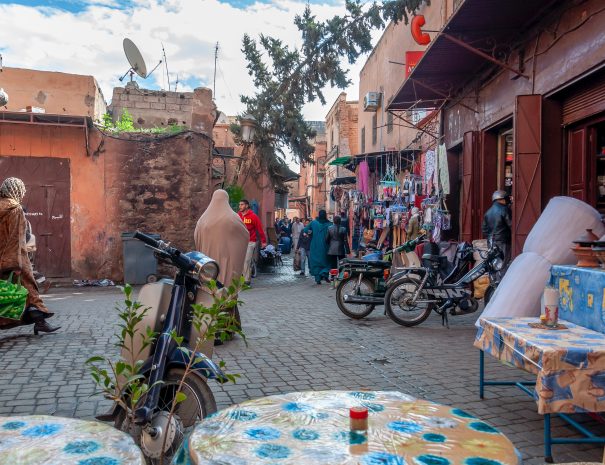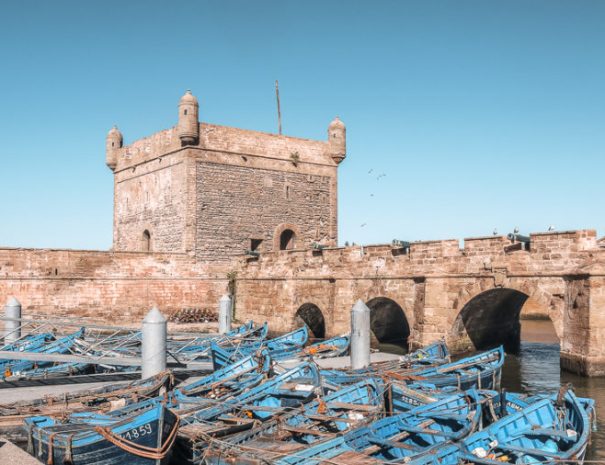 Day 1: Marrakech - Essaouira

Pick up at 8:00 am at the Hotel or Riad in Marrakech. Departure to Essaouira. Free day to visit the ancient port of Mogador, built by the Portuguese on a narrow peninsula next to a huge crescent of fine sand. Perfectly sheltered by its impressive ramparts of French construction of the eighteenth century. Free lunch, you can taste fish, enjoying a tasty meal at the port. From the top of the Skala you can see the colorful fishing port, fortresses and Spanish cannons. Essaouira is also famous for its refined craftsmanship, especially wood. Dinner and overnight at Riad.
Day 2: Essaouira - Agadir - Sidi Ifni
After breakfast, departure to the south to visit the beautiful beaches of Sidi Ifni. During the route we will make a brief stop in Agadir, which has become in recent years, a typical summer place. We will continue to Sidi Ifni, a ghost town of great natural beauty. There are still traces of the Spanish presence, especially in the names of the streets of cities and Spanish surnames, and its old Spanish square that remained intact from the Spanish presence. Since the departure of Spain, Morocco has not developed much the city, but perhaps that is its charm, a quiet town of friendly people surrounded by pristine and spectacular beaches. Dinner and overnight
Day 3: Sidi Ifni - Legzira Beach
After breakfast we will go to visit one of the most beautiful beaches in the area, Legzira Beach, a natural monument which highlights the arches of red sandstone rocks and spectacular size, resembling dinosaur legs that have formed naturally. You will have the day free to enjoy the sun, the sea and its beautiful caves and arches that invite you to make a beautiful photographic report. Return to Sidi Ifni. Dinner and overnight.
Day 4: Sidi Ifni - Taroudant - Ouarzazate
After breakfast we will leave for Ouarzazate. En route we will stop in Taroudant. Like Marrakech, Taroudant has imposing adobe ramparts, ornamented with square towers. With a 7 km buggy ride around the wall, you will discover the five gates, of which Bab El-Kasba is the main and most majestic.
The excellent state of preservation of the crenellated ramparts commands respect. Large fruit gardens surround the city, its medina and souks are very lively; there, the profusion of decorative items, jewelry, carpets and other antiques is mind-blowing. Continue to Ouarzazate, known as the Moroccan Hollywood for its large film studios. Dinner and overnight.
Day 5: Ouarzazate - Ait Ben Haddou - Marrakech
After breakfast, we will leave Ouarzazate. We will have the opportunity to visit a film studio. Then we will continue our way and we can visit the fabulous Kasbah of Ait Benhaddou, declared a World Heritage Site by UNESCO. In this spectacular setting have been filmed films as renowned as Gladiator or the Jewel of the Nile, Babel …. Return to Marrakech, contemplating on the way the beauty of the mountains full of villages inhabited by Berbers. Arrival in Marrakech in the afternoon / evening. End of our services.
included in 5 days Morocco Tour.
Route in 4×4 or VAN or minibus with A/C
Fuel
Driver with more than 12 years of experience in tourism.
Hotels or Riads with breakfast and dinners
Not included in Tour
Lunch
Drinks
Tips and anything else not specified in the program.
Our tours are private and we adapt to the dates and times of the travelers.
Any modification can be made to adapt the tour to the needs of the travelers.
È stata un'esperienza molto buona. The guys from the agency have treated us wonderfully, all comforts, very fun and beautiful. Madu, Ebrahim, Brad, thank you, tanmirt. Meeting and spending 4 days with Zaid, our driver and guide, was a real pleasure, we would repeat without hesitation with him, he made us feel like one of his family. He has helped us in everything, given us security, and made us know much more about the country. Zaid is very big! Tanmirt Zaid
We were a group of friends and had little time, so we were able to modify the trip and do the desert of Merzouga in two days and one night, although it was a long way to get to the desert, it is absolutely worth it. Es una experiencia única, tanto los paisajes, contando atardecer, noche totalmente estrellada y amanecer en el desierto, como los organizadores, muy amables, detallistas y alegres. 100% RECOMMENDED
When traveling to unfamiliar places you have a kind of fear, to know that what you are paying for will be met. In this case they exceeded all our expectations, everything was set up perfectly and with friendliness at all times. The hotel in Dades, a beauty, which transports you to live for a moment in a beautiful Riad. The Haimas in él deserts impeccable. I would definitely recommend it to those who want to have an excellent experience with no surprises. We were 1 couple, 2 children and grandparents. Thank you for everything.